Dawn of the future network
Intelligent infrastructure for the digital business
EXECUTIVE SUMMARY
Enterprise IT leaders do not need to be convinced of the need to modernize their network infrastructure. The technologies they have been deploying—and plan to deploy—place demands on the network that existing architectures and legacy infrastructures are unable to handle efficiently. Meeting highest-priority business objectives will require an intelligent, virtualized network infrastructure that is highly adaptable, automated, and able to support near-real-time data analysis almost anywhere.
This report, based on a survey of 1,581 IT executives from organizations in different industries and geographies, indicates that network modernization is under way. However, the lack of accumulated experience, and the developing state of several of the technologies, mean that not all IT leaders are sure which path they should follow.
Below are the key findings from the research:
Network modernization moves up on the agenda. Companies' investment priorities are shifting toward emerging technologies such as artificial intelligence (AI) and robotics. However, IT leaders have doubts about whether their networks can support these new technologies. To detect and correct weaknesses, many organizations are already deploying intelligent network infrastructure in areas such as edge computing and SD-WAN.
The right road to the future network? Companies understand that the success of digital transformation relies on their network's transition to a more intelligent infrastructure. Only a handful, however, have developed a roadmap to guide that transition. Those that have are more confident in their network's capabilities to support emerging technologies.
Power needs are changing. Nearly 4 in 10 surveyed executives believe their computing power needs will remain unchanged over the next 3 years. Six in 10 think otherwise—a reasonable assumption given the growing bandwidth needs associated with the Internet of Things (IoT), AI, and other emerging technologies. More power will be needed near the edge of networks.
Security concerns are ever-present. Cybersecurity dominates IT leaders' investment priorities. It also represents the main perceived risk to their network migration plans. However, while companies must meet their cybersecurity requirements, they should not let perceived risks become a straitjacket. Despite some current unease, deployment of technologies such as SD-WAN will likely strengthen network defenses in the long run.
About the research
The analysis in this report draws on the results of a global online survey of 1,581 senior IT executives, including CIOs, CTOs, and other C-level roles, as well as IT directors, network managers, and other direct reports into the C-suite. The survey was conducted in August 2018 on behalf of AT&T by Longitude, a Financial Times company.
Quotas were set on the sample to ensure an even spread across 5 industries: financial services, healthcare, manufacturing, retail, and transport.
Respondents were based in 3 territories: Asia Pacific (21%), EMEA (40%), and North America (39%), and all work in large organizations that have annual revenues of USD1 billion or more.
In-depth insights were obtained from interviews conducted with the following individuals:
(Listed alphabetically by surname)
Cindy Fedell, Chief Digital and Information Officer, Bradford Teaching Hospitals NHS Foundation Trust
Adam Gerrard, Chief Information Officer, Yodel
Abhi Ingle, Senior Vice President, Digital, Distribution & Channel Marketing, AT&T Business
Norbert Sluzewski, Director, Strategic Advisory Services – Innovation AT&T Business
Aaron Thomann, Chief Technology Officer, GE Healthcare
SECTION 1
Network modernization in play
Few IT leaders need to be convinced of the benefits of emerging technologies. Front and center are IoT, advanced analytics, AI, machine learning, and robotics. Respondents confirm they have invested significantly in these technologies to date, with no sign of a slowdown.
Cybersecurity aside, IT leaders' top technology investment priorities over the past 12 months have been IoT (58% list it among their top 3 priorities) and big data and analytics (50%). These will remain a focus, but AI and robotics will soon rise to the top of the agenda. While AI was a top-3 priority for 29% of survey respondents' firms in the past 3 years, 52% say it will be in the coming 3 years. For robotics, the figures are 13% and 30%, respectively. Spending on augmented and virtual reality (AR/VR) and 5G mobile technologies will also likely rise.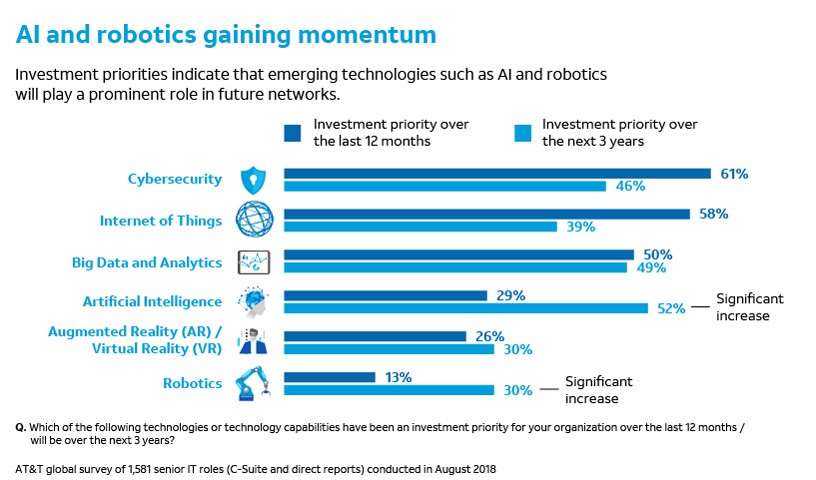 All these technologies promise better customer experience, hyper-personalization, greater operational efficiency, and improved business scalability. Without virtualized, software-defined intelligent network infrastructure, however, the technologies are unlikely to deliver on these.
When the entire infrastructure stack is definable by software, when we have the ability to ramp up and down according to specific needs, how we go about our day-to-day IT work will be fundamentally changed. – Aaron Thomann, Chief Technology Officer, GE Healthcare
Can today's networks support these capabilities? It is clear from the survey that IT leaders don't see this as a sure thing. For example, only 18% believe their network can reliably support AI use cases today, and no more than 20% say the same about robotics. The doubts extend to support for more mainstream technologies. Around half, 51%, say their network can support IoT uses at best "to some extent" today. Even more, 59%, say the same about supporting use of data analytics.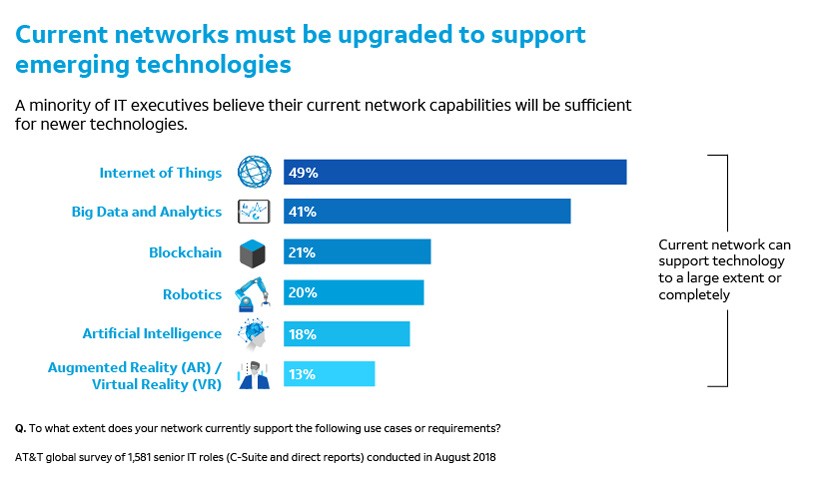 Most executives (62% of respondents) also expect their computing power needs to increase in coming years. Cindy Fedell, Chief Digital and Information Officer at the Bradford Teaching Hospitals NHS Foundation Trust in the UK, points to much of the additional power being needed near the edge of networks: "There will be more wearables, more step-up virtual clinics, more home monitoring and fewer patients coming into our Trust. That means more bandwidth and power needs outside the network. And that places new demands on our infrastructure."
A large minority of survey respondents, however—almost 4 in 10 (39%)—do not believe their computing power requirements are likely to increase in the next 3 years. This is perhaps naive given the growing analytical and number-crunching muscle that AI-based technologies will need—like the expanding volumes of data that IoT sensors are generating, for example.
AI and robotics will soon rise to the top of the agenda.
Attention turns to modernization
IT leaders' concerns about their current network capabilities help explain why many organizations are planning to push ahead with the deployment of intelligent infrastructure. These intentions are particularly clear in areas such as edge computing, cloud-based application infrastructure, and network policy and orchestration.
Deployment of these network technologies will accelerate the coming years. For example, whereas no more than 23% of IT leaders say that edge computing is part of their network today, 63% expect to have this in place 3 years from now. The figures for cloud-based application infrastructure are 31% and 50%, respectively.
SD-WAN will also feature in many more networks in the coming years. If 19% of companies have it in their networks today, twice that number (38%) say it will be present in 3 years. Among the key advantages that IT executives aim to gain from the technology are improved network scalability and flexibility, made possible through automation. "Automation is where software-defined networks really add value to your infrastructure," says Adam Gerrard, Chief Information Officer of UK parcel delivery firm Yodel. "They can be designed to automatically spin up additional capacity on demand and scale it back again after a peak has subsided."
We currently have an MPLS-based network – very classic late '90s, early 2000s. Most retailers are likely to have something similar… Our plan is to address all the limitations of that by moving to an SD-WAN based architecture. – VP of IT Infrastructure, $3B+ retail firm
Nascent 5G technology also features in organizations' future network plans. As many as 16% of respondents expect 5G capabilities to be part of their networks in 3 years, as telecom operators roll out their own communication networks.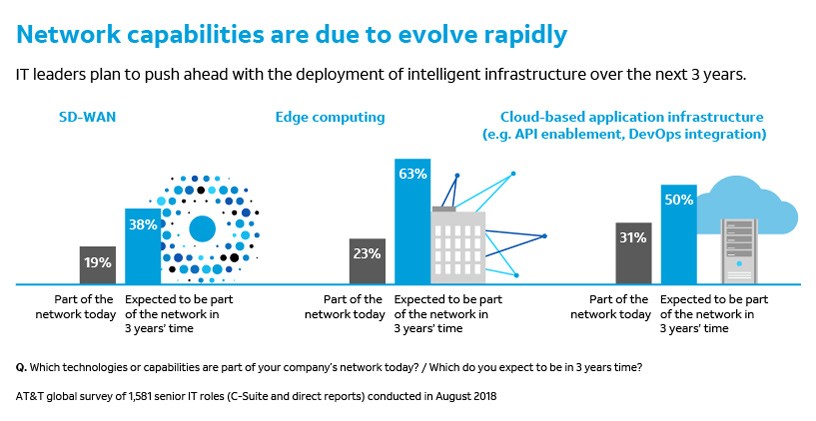 5G represents a "massive opportunity" for GE Healthcare, according to the firm's Chief Technology Officer, Aaron Thomann: "As we deploy such technologies as AR, you need bandwidth to handle the large volumes of data flowing back and forth. If we can get out to the front edge of the network into cell phones and other devices that can connect with high bandwidth, we can then think in transformative terms about network design."
Technology leaders need to begin looking at the network as a consumption-based utility rather than a capital investment that sits on the company's books. Because software-defined networking (SDN) allows the injection of a third party into your data center and communications systems, software can be operated not just by the company inside, but from solution providers on the outside. That capability to change the router's configuration, change the switching fabric, change the route path to optimal directions, and so on, should be seen as a viable alternative to the traditional way of running IT. – Norbert Sluzewski, Director, Strategic Advisory Services – Innovation, AT&T
SECTION 2
Needed: Transition strategy
Companies understand that the success of digital transformation depends on their networks' transitioning to a more intelligent infrastructure. Over three-quarters of survey respondents (77%) subscribe to this view. As shown above, many are investing in intelligent infrastructure technologies such as edge computing and SD-WAN. No more than a handful, however, have developed a roadmap to guide the transition: only 8% state that they've developed a network transition strategy (40% state clearly that they have not yet done so.)
One explanation may be a lack of clarity, partly due to the relatively recent emergence of some network technologies, on the migration paths that other organizations are adopting. "CIOs and CTOs know they need to modernize the network, and that SDN should be part of that modernization, but there is confusion about how to go about it," says Abhi Ingle, Senior Vice President, Digital, Distribution & Channel Marketing with AT&T Business Services.
What jumps out is that companies with a clear transition strategy are able to present stronger use cases for emergent technologies such as IoT, advanced analytics, and AI.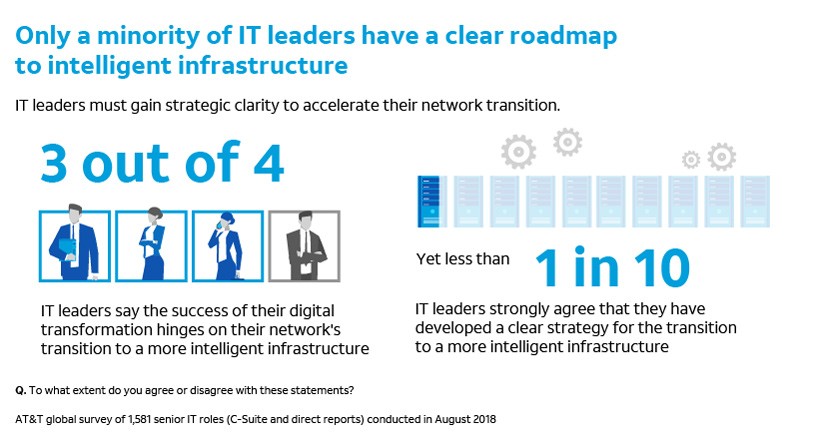 Investing in new technologies without a migration strategy or roadmap can lead to poor technology choices, underestimating the difficulties in managing hybrid cloud and on-premise estates, and a range of other issues.
An on-point roadmap is crucial as companies expect their networks to become considerably more virtualized over the next 5 years. Almost half (49%) of respondents expect all network functions to be virtualized in 4‒5 years. One-third (33%) expect this to be the case between 6 and 10 years from now.
Open innovation
Companies will also need to build their strategies for new technologies that enable collaboration with external solution providers. Most IT leaders are zoned in on engaging more openly with 3rd parties in innovation and data-sharing platforms. For example, 72% say development and use of external APIs is a major technology focus for them. Companies must work on their ability to surface their own data efficiently and securely, and capture and analyze large volumes of 3rd-party data.
"We're in a world where there's great value in incorporating things that are popular and heavily used by other parties," says one VP of Infrastructure at a $3B+ retailer. "Open architectures and open-source solutions definitely lend themselves to that. The key is being able to deploy them quickly. One way that happens is by using solution providers who offer those things to you as a service."
Investing in new technologies without an infrastructure migration strategy or roadmap can lead to poor technology choices.
Many organizations—46% of respondents—also expect to rely in the future on open-source standards for emerging technologies. Open network architectures also lend themselves to the use of open standards. The survey reveals a potential disconnect, however: no more than 19% of respondents state that open architectures (including the use of microservices, for example) will be a technology priority for their organization over the next 3 years. This is a considerably smaller number than those who are committed to using external APIs or to adopting open standards, which means many organizations may find they lack the infrastructure required maximize the success of these technologies.
Network confidence, priorities, and plans: How industries compare
Of the industries covered in the research, IT leaders in financial services firms displayed a greater degree of confidence in the capabilities of their existing networks. They also have more coherent plans for the transition to intelligent infrastructure. At the other end of the scale, modernization plans are least developed among the transport organizations in the survey, where confidence in existing networks is also comparatively low. Following are some areas where survey responses differ notably according to industry.
Financial services
Financial industry firms are more likely to have developed a strategy for the transition to an intelligent network than those in other industries.
Integration of intelligent threat-detection capabilities in the future network is a big priority for financial industry players. This is likely driven by the increasingly high security and compliance standards that governments and regulators expect.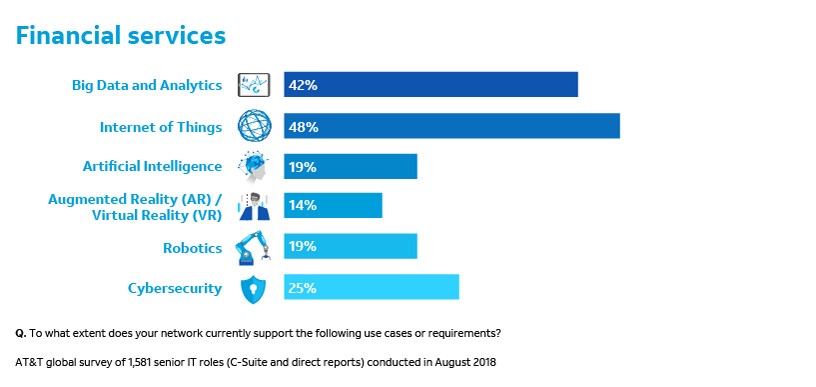 Retail
Retailers have demonstrated a sharp focus on understanding consumer behavior. This helps to explain why they've done more than firms in other industries to upgrade their networks' capability to support uses of IoT and big data and analytics.
Large numbers of surveyed retailers plan to integrate edge computing, network policy and orchestration, and SD-WAN capabilities into their networks.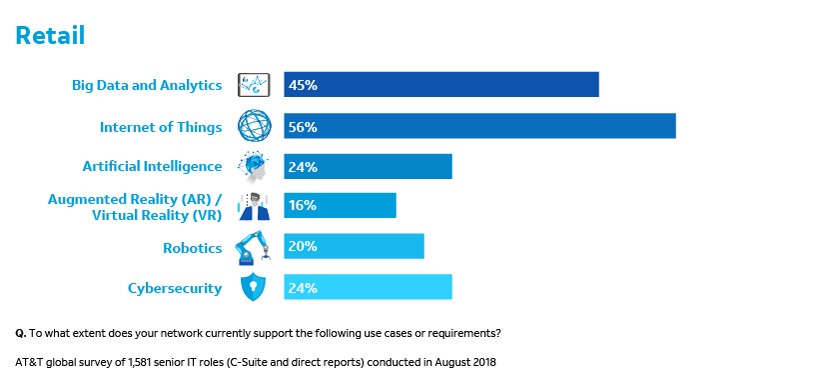 Manufacturing
Manufacturers were early adopters of IoT technologies, driven in part by the spread of Industry 4.0 ("smart manufacturing") concepts. That said, their IT executives display lower degrees of confidence than their peers in other industries in their networks' current ability to support IoT, as well as big data and analytics.
More manufacturing IT leaders plan to build SD-WAN capabilities than is the case for other industries in the survey.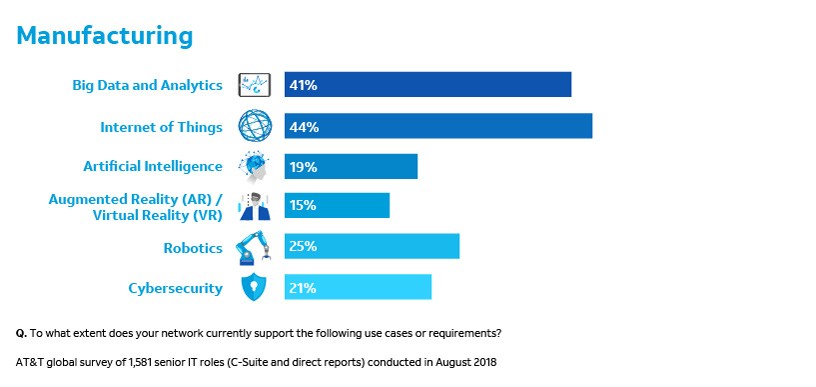 Healthcare
Like manufacturers, healthcare organizations have been quick to capitalize on the use of IoT sensors and the data they provide. Looking ahead, over half (55%) of healthcare IT executives say AI will become a top priority in the coming 3 years.
Intelligent infrastructure seems to be less of a priority in the health industry than in other industries. However, nearly 6 in 10 health organizations plan to integrate edge computing capabilities into their networks within 3 years.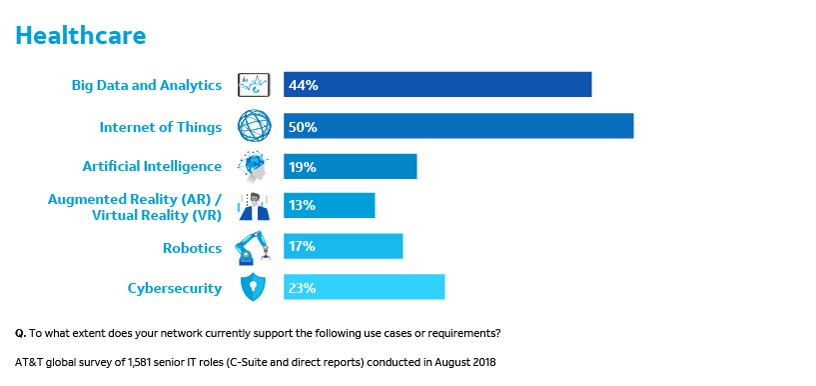 Transport
Fewer IT leaders in transport organizations (compared with their peers in other industries) are confident in their networks' current ability to support several technologies, especially big data and analytics and AI.
Transport organizations are also the least aggressive of the 5 industries in the survey when it comes to future deployment of intelligent infrastructure. For example, one-third or fewer transport respondents expect cloud-based application architecture and SD-WAN to be part of their future networks.
SECTION 3
Smart defense
When asked for their technology investment priorities for the foreseeable future, the most senior business (non-IT) executives of organizations put cybersecurity at the top of their list. They also see cybersecurity concerns as the highest barrier to network modernization.
Their senior IT colleagues tend to share their views. Bolstering cybersecurity capabilities is the top technology priority, today and in the future. At the same time, cybersecurity concerns overshadow all other obstacles to the implementation of their network migration plans. These include the high cost of infrastructure, regulatory compliance issues, and vendor lock-in. Only data privacy concerns—a closely related issue—approaches cybersecurity as a perceived obstacle to modernization for IT leaders.
What specifically worries IT executives in this context? Three concerns stand out: IoT sensors, AI, and public cloud providers. The use of IoT sensors is a top cybersecurity worry for 48% of respondents. Slightly higher numbers express such concerns in the transport (52%), retail (50%), and manufacturing (49%) industries, where sensors are already ubiquitous.
The use of AI, which our survey suggests will enjoy higher investment priority in the coming years, represents a top cybersecurity concern for 46% of surveyed firms. Concerns are particularly widespread in healthcare and transport organizations (shared by 57% of respondents in each of these industries).
Newer network technologies also worry some technology executives. One VP of Infrastructure at a $3B+ retailer relates that SD-WAN makes him uneasy due to the many more points of interconnection that need to be defended compared with the MPLS architecture. "We haven't had time to develop those standards and practices that we've had around more established network architectures," he adds.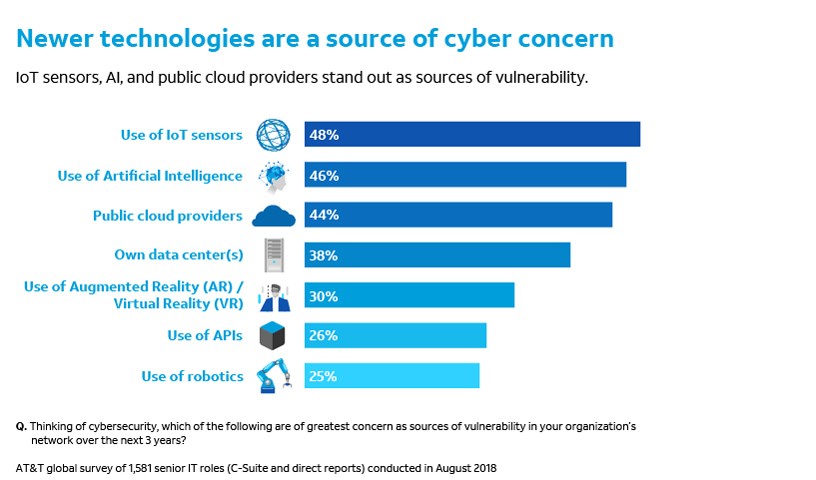 Avoiding cybersecurity paralysis
Given the seriousness and frequency of security incidents in recent years, and tightened regulation of data privacy rules (including stiffer penalties for breaches) in many countries, IT executives' heightened attention to the integrity of their networks is certainly justified. But security fears should not paralyze companies' network modernization plans.
For one thing, there are grounds for greater confidence in the capability of new technologies to ensure cybersecurity. For example, industry and government bodies are actively working to propagate universal security standards for IoT sensors, and there is evidence of growing confidence in cloud providers' security defenses.
"Fortunately, end point and human computer interface security is relatively mature these days, and it can be adapted to fit most of the technologies we have been investigating." – Adam Gerrard, Chief Information Officer, Yodel
Despite some misgivings around lax security guidelines and practices, deploying intelligent infrastructure should help organizations to strengthen their network defenses. When it comes to SD-WAN, for example, nearly half of the IT leaders surveyed believe one of its top benefits is its ability to centralize network security.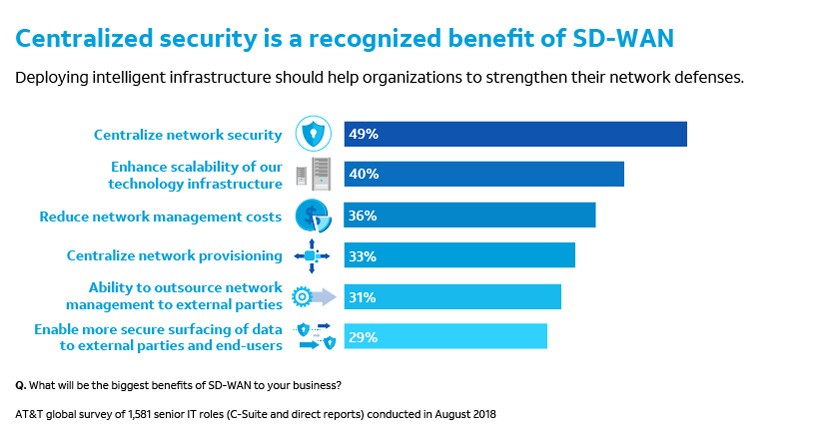 For Abhi Ingle, Senior Vice President, Digital, Distribution & Channel Marketing, AT&T Business, the key to minimizing risks in the deployment of new network infrastructure is to avoid managing security in the old way: "In an intelligent network, the security has to be built in from an edge-to-edge perspective."
"That's why AT&T has acquired AlienVault – now combined with AT&T MSS and rebranded as AT&T Cybersecurity – to provide automation, integration and optimization, and most importantly, security insights to our customers to help them run their cyber operations."
CONCLUSION
Organizations in all industries are in the early stages of modernizing their networks. As they gain experience with intelligent infrastructure, and bodies of best practice are built up and put into play, the paths to the future network should become clearer. In the meantime, our research points to 5 lessons that IT leaders should consider when preparing for the journey:
Modernize now
Many companies are prioritizing deployment of advanced technologies, but IT leaders are not sure their networks can support them. However, while companies must invest carefully, they should not delay the transition to intelligent infrastructure.
Build a roadmap
IT leaders know this transition is critical to their organizations' digital future, but only a few have developed a strategy to guide it. A strong strategy is key to avoiding poor investment decisions.
Embrace open architecture
IT leaders want to expand the use of external APIs, and many are committed to adapting open standards for new technologies. An open-architecture approach to network design is also needed to take full advantage of the innovation these offer.
Power up your network
Too many IT leaders underestimate the demands that more powerful and bandwidth-intensive applications will make on network resources. Though computing power needs are often unpredictable, they are sure to grow, and networks must be able to cope.
Get the security balance right
Cybersecurity is understandably top of mind for IT leaders. While concerns around vulnerabilities of newer technologies are natural, some of these technologies will help to enhance network defenses. Such fears should not deter IT leaders from deploying intelligent infrastructure.