Capture shoppers with personalized brand experiences
Retailers are using digital marketing strategies to interact with customers across the shopper journey
In this series, we explore how brick-and-mortar is more relevant than ever. As customers are using the physical store as an extension of their digital journeys, retailers are required to not only implement increasingly sophisticated digital solutions, but in many cases, re-design all or part of their stores and retrain employees to enable these new capabilities. In this blog, we examine how the store experience is driven by immersive marketing.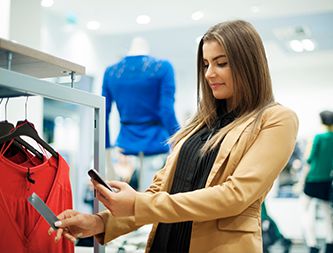 Retail Solutions
AT&T empowers retailers with data insights and secure technology solutions to help provide a powerful, connected consumer experience.
Enhancing customer engagement in stores has been the calling card for analysts and media for several years now. In-store marketing technologies have matured tremendously in the last 24 months, and retailers are seeing the value with planned investment in proximity-based marketing and advanced clienteling.
Top tech investments for immersive marketing
"Clienteling" and offering an "endless aisle" are top investments for retailers, as retailers look to provide more personalized experiences for their shoppers:
"Clienteling" is a technique used by sales associates to establish relationships with key customers based on data about their purchases, preferences, and shopping behavior.
"Endless aisle" refers to the practice of enabling customers to browse or order products that are not available in the store and have those items shipped to customers' homes or to the store for customer pick up.
Digital signage investments remain steady year-on-year as applications remain relevant for merchandising and marketing in the store.
Retailers are seeing the value with planned investment in proximity-based marketing and advanced clienteling.
Retailers in real life

A large athletic apparel retailer has launched a store with digital mirrors and story fixtures to provide customers with personalized recommendations. They also added new fixtures for better merchandising, and they have enhanced the checkout service.
A UK-based, multi-channel retailer offers an immersive high-energy open retail ambience to attract millennial customers by bringing social media into the physical environment.
Ready to learn more? Explore how retailers are making in-store investments in 2019. Or download the full report now.