AT&T Cybersecurity rated 'very strong' in GlobalData report
GlobalData, an independent data analytics company covering technology and business, has published its annual product assessment report for Global Managed Security Services (MSS). GlobalData has named our new AT&T Cybersecurity division 'Very Strong' across all seven areas reviewed. This is the third consecutive year GlobalData has ranked AT&T as 'Very Strong' for Global Managed Security Services.
AT&T recently acquired cybersecurity vendor, AlienVault, to offer a robust threat detection and response service, supported by continuously updated threat intelligence delivered by AT&T Alien Labs. In February of this year, AT&T merged our Cybersecurity Consulting and Managed Security Services units with AlienVault to create a new division, AT&T Cybersecurity. With the technical capabilities of AlienVault's Unified Security Management platform and the power of the highly-reliable AT&T network and AT&T consulting services, the new cybersecurity unit integrates best-of-breed technologies with unrivaled network visibility and curated threat intelligence from AT&T Alien Labs researchers.
AT&T Cybersecurity is a comprehensive, one-stop consulting and managed services shop delivering end-to-end cybersecurity solutions for small business and enterprise customers.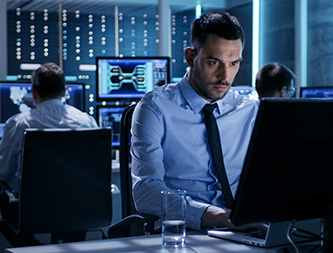 Cybersecurity Solutions
Security is never one size fits all. Learn how to build a cyberdefense plan to meet your unique needs.
GlobalData on the strengths of AT&T Cybersecurity

AT&T Cybersecurity earned GlobalData's ranking of 'Very Strong' for delivering a complete and cohesive set of solutions for a diverse range of businesses and enterprises. The GlobalData report characterizes AT&T Cybersecurity as a "robust cybersecurity portfolio that addresses customers' most acute pain points…," including implementing managed threat detection and response, advanced threat intelligence, mobile threat defense, endpoint security, compliance and risk management, and infrastructure security.

The report highlights AT&T Cybersecurity's deep security expertise, including highly skilled security professionals, who are trained in specific areas of cybersecurity and work closely with dedicated experts and consultants.
"AT&T's cybersecurity portfolio protects not only the network and data center, but all enterprise IT resources including mobile and IoT devices as well as cloud applications." (GlobalData Product Assessment Report – Global Managed Security Services, April 15, 2019)
GlobalData singles out AT&T NetBond® as a particularly strong cloud solution for security connectivity challenges. AT&T NetBond® was built to provide highly-secure cloud connectivity to integrate with third-party cloud environments.
The strengths of AT&T Cybersecurity will continue to grow as we expand and add to our cloud security solutions.
All 7 areas evaluated as 'very strong'
GlobalData's assessment of AT&T Cybersecurity is especially impressive given the relative newness of this particular division. While our expertise in cybersecurity and managed security services is extensive and widely recognized, the fact that the new division — including the AlienVault acquisition — is rated 'Very Strong' across every metric is an indication that our cybersecurity solutions continue to be a great fit for customers.
The 7 metrics GlobalData evaluates in their report are:
Security services scope and availability
Service packages/support guarantees
Security assessment and auditing services
Authenticator and encryption services
Monitoring and event management
Threat management and content security
Cloud security
AT&T Cybersecurity focuses on the future
It's particularly rewarding for AT&T Cybersecurity to be rated 'Very Strong' by GlobalData across all areas before the end of our first year as an integrated division. At AT&T, we are focused on forward momentum and increasing the scope of services, solutions, and expertise we can offer our customers.
The strengths of AT&T Cybersecurity will continue to grow as we expand and add to our cloud security solutions.
The report acknowledges that our expert security personnel are at the core of what our customers value and rely on most from AT&T, and we plan to continue investing in training and hiring the top echelon of cybersecurity experts.
As we continue to develop stronger and more reliable threat detection and cybersecurity services and solutions to protect our global network, we're helping enterprises and diverse businesses do the same through delivering edge-to-edge cybersecurity technologies, services, and consulting.
To learn more about AT&T Cybersecurity Services, please visit our Cybersecurity page.