6 questions to ask before choosing an IoT platform
The right IoT platform allows your business to kick off projects quickly and with confidence
No matter the size of your business, getting an Internet of Things (IoT) project off the ground is a challenge.
In the initial stages, you want the speed to build, test, rebuild, and retest prototypes. But that agility should be balanced with a more deliberate pace – one required for intelligent, long-term resource planning.
If finding that balance isn't a problem for your business, you probably chose the right IoT platform. If you're still looking, you may want to keep reading.
The right platform allows you to kick off projects quickly and with confidence. Once the prototype has been proven, the scaling — from a single device to supporting millions or even hundreds of millions — can begin. It's a combination of capabilities that not every platform can offer.
If your company is looking for a new IoT platform, seek answers to these six questions.
1. Is it proven?
To move forward with confidence, you need a provider with a track record; one who has been there — and will continue to be there.
2. What about the ecosystem?
Say they have the necessary staying power. Do their partners have that power too? Your platform needs the support of longstanding relationships with world-class hardware and software providers
3. Is it global?
A project initiated in one geographic region will often spread to every country where your operations, customers or supply chains live. That kind of growth requires a global footprint.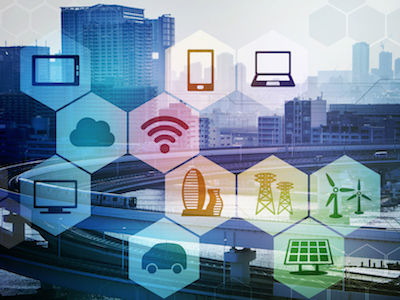 What you need to know about IoT platforms
Learn how to choose the right platform for your business in this free report from AT&T.

4. What about multiple networks?
A proven provider offers you a platform with global reach, backed by the best providers. Now, you need the solution development and management capabilities to work across multiple networks simultaneously.
5. Is it flexible and secure?
Whatever challenges lay ahead for your business, there are three things you'll need from your IoT platform: unlimited flexibility, fluid scalability and cast-iron security.
6. What about the cloud?
Say the platform you're considering works securely with multiple networks on a global scale. It should also work seamlessly in the public, private and hybrid environments of the cloud.
Your platform needs the support of longstanding relationships with world-class hardware and software providers.
Share this quote
IoT Starter Kit
Try starting your next IoT project with an AT&T IoT Starter Kit.
The kit includes tools and services to help your company build, deploy, manage, and connect on the AT&T nationwide LTE cellular network. This is out-of-the-box compatibility with AT&T M2X Data Service, AT&T Flow Designer, Microsoft Azure, and IBM Bluemix.
With the SIM and hardware kit, you'll also get an LTE module plus an extensible developer board to connect sensors and other computing hardware.
Learn more
IoT is more than just devices talking to one another. It's where the future of many enterprises will unfold.
How that happens has everything to do with the platform you choose now.
If you're ready to take full advantage of the Internet of Things, AT&T is ready to help bring your IoT solutions to life. So far, AT&T has connected more than 30 million devices in a global network that spans over 200 countries and territories.
For more information on choosing the right platform, read our special report, "What you need to know about IoT platforms."