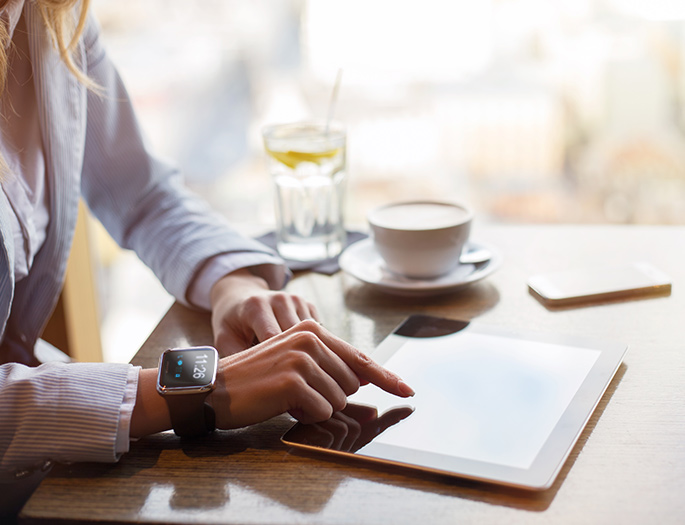 More ways to use your number
Ever wish you could make or receive a call when you don't have your phone with you? With NumberSyncSM, you can use your wireless number on any compatible device and you can make or receive calls using your wireless number, whether or not your smartphone is handy.
Freedom and convenience with NumberSync
You can use your mobile number with multiple devices.
Business colleagues can recognize your call even when you're not using your phone.
You can make and receive calls from whichever synced device you choose.
Terms and conditions: NumberSync
NumberSync: Requires compatible device on eligible wireless plan & smartphone on AT&T postpaid wireless account & set up for HD Voice. Visit att.com/hdvoice for information. NumberSync requirements, features & functionality may vary by device type & manufacturer. Data Charges: Apply to SMS/MMS messages sent/received on synced wearables and to calls made/received on synced Android tablets when not connected to Wi-Fi. 911 Calls. If you cannot be located using location information obtained from your device, 911 calls will be routed based on the address you provide in the NumberSync settings of your device. 911 calls are not supported outside the US, Puerto Rico, or USVI. 911 Calling with TTY & Real-Time Text: Due to technical limitations, NumberSync cannot be used with TTY devices and cannot support 911 calls over TTY devices. Persons with communications disabilities can use Real-Time Text (att.com/RTT) as an alternative. 911 services can be reached by either: (1) calling 911 using Real-Time Text, or (2) calling 911 directly using a TTY over the cellular network or from a landline telephone, or (3) sending a text message to 911 directly (in areas where text-to-911 is available) from a wireless device, or (4) using relay services to place a TTY or captioned telephone service (CTS) call from a wireless phone over the cellular network or from a landline telephone, or (5) using relay services to place a IP Relay or IP CTS call over a cellular data or other IP network. Additional restrictions: NumberSync cannot be used to initiate calls to 211, 311, 511, or 811. Not compatible with Smart Limits, Ringback Tones, OfficeDirect, or OfficeReach. Additional Information: Real-Time Text is not supported on all secondary devices like wearables and computers. Go to att.com/RTT for more information on how to use Real-Time Text. Visit the FAQ for Apple or the FAQ for wearables.