Connectivity for Schools to Support eLearning for their Students
Unlimited wireless broadband connectivity with AccessMyLAN™, at no cost for 60 days on new qualified data-only lines*
*Ends 7/31/20. Avail. to qual. AT&T customers. Req's new line w/elig. rate plan and AccessMyLAN service for elig. data-only device. Device not included in promotion.  Receive credits for data plan (min. $50/mo.; max credit $100) and AccessMyLAN svc (min. $9.99/mo.; max credit $19.98) for 60 days. Credits start w/in 2 bills. If svc cancelled, credits stop. Other fees, taxes, charges & restr's apply
Offer is available for all qualified public and private schools, from K-12 to colleges and universities. After 22GB, AT&T may temporarily slow data speeds due to network traffic volumes. See offer details below.
Features
Details
AccessMyLAN

A CIPA-compliant solution that allows schools to manage the internet content students can access and view to help protect them from unsafe content.
It provides visibility and flexibility for school administrators and IT staff to manage wireless connected devices and help enforce data security policies.

Unlimited Data Plans

Provides wireless broadband connectivity for tablets, iPads, MiFi and AirCard devices.
Provides unlimited domestic data usage* on the AT&T 3G or 4G LTE network and AT&T Wi-Fi Basic Network (see www.attwifi.com for details).

*After 22GB, AT&T may temporarily slow data speeds due to network traffic volumes.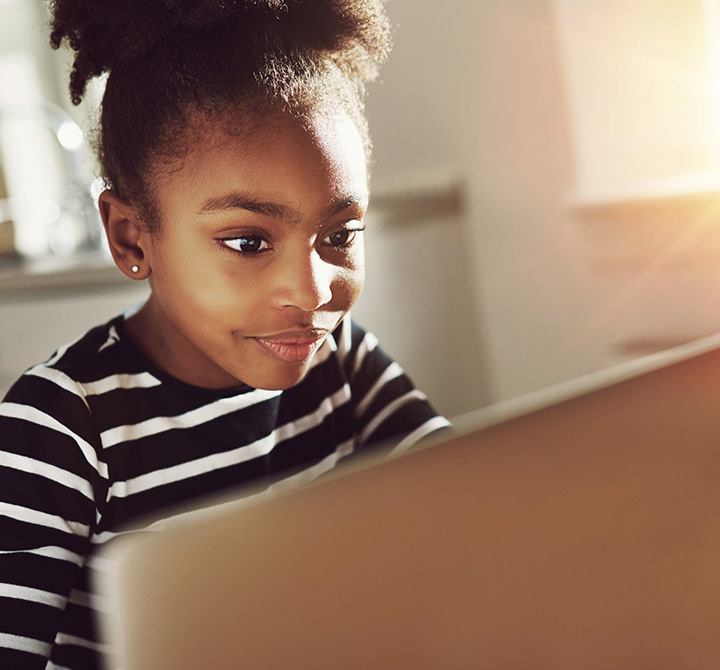 Connectivity for Schools to Support eLearning for their Students
As school closings cross the country, staying connected is more imperative than ever before. We also understand that moving the classroom into the home requires that students have access to the internet—and that's not all. Schools also need to ensure that connectivity supports important safety protocols like the Children's Internet Protection Act (CIPA).
That's why we've created this offer for all public and private schools, from K-12 to colleges and universities. If eligible, we're offering unlimited wireless broadband connectivity with AccessMyLAN™, at no cost for 60 days on new qualified data-only line activations.
Learn more about AccessMyLan
AT&T DATA Plan AND ACCESSMYLAN Offer:  Available 03/24/20 – 06/21/20. Avail. only to qual. K-12 public and private schools, colleges & universities with a qual. wireless svc agmt (Qualified Agmt) and only for Corporate Responsibility User lines of svc.  New lines only. Req's new activation for eligible data-only device (tablet, iPad, laptop/aircard or hotspot device) on qual. data-only plan ($50.00/mo.) and AccessMyLAN ($9.99/mo.).  Qual. plans are Unlimited 3G Laptop & Mobile Hotspot Throttle Plan, Unlimited LTE Laptop & Hotspot Throttle Plan Govt, Unlimited LTE iPad Plan for Government, Unlimited LTE Tablet Plan for Government, Unlimited iPad Plan for Government, and
Unlimited Tablet Plan for Government. After 22GB of data usage on a line in a bill cycle, for the remainder of the bill cycle, AT&T may temporarily slow data speeds on that line during times of network congestion.  For full plan details, see the Qualified Agmt.  Credits: Elig. customers will receive 60 days of credits for qual. data plan (max credit $100.00) and for AcessMyLAN (max credit $19.98). Must be active & in good standing for 30 days. Credits rec'd over 2-3 bill cycles. Credits start w/in 2 bill cycles.  Credits end if svc is
cancelled.  AccessMyLAN:  Service includes (i) a shared APN or VPN configuration provided by AT&T and (ii) a server software agent, network-based remote access platform, and administrator web console provided by Asavie Technologies, Inc. (Asavie). Controls can be used by the administrator to restrict what resources may be accessed and/or when a user can access the network. Service is subj. to the Asavie software license found at www.AccessMyLan.com/channel/0985/eula.pdf  including the following:  In order to support provision of the service, as part of the AccessMyLAN service, Asavie and its affiliates may collect and process data including, without limitation, the following (which may include personal data): device number (MSISDN & IMEI), time and date of use of device when using mobile data or WiFi, amount of data sent and received, location of access, websites accessed and the type of website accessed. For managed devices (i.e., devices where AccessMyLAN is used as the mobile device manager), then AccessMyLAN may collect the names of applications installed on the device. The application name data will only be collected if you enable the App Control feature in the AccessMyLAN management portal.  Asavie and its affiliates (being any related entity, subsidiary or holding company of Asavie) is required to make use of data (which may include personal data) sent from end users' devices and computers in order to perform the AccessMyLAN service. Asavie and its affiliates may also make use of this data to generate anonymous statistical data for product development and marketing purposes. AT&T will have no access to this data.  For full service details, see www.wireless.att.com/businesscenter/en_US/pdf/accessmylan-from-att-product-brief-3-23-20.pdf.  Limits:   Data and AccessMyLAN svcs may be used for educational purposes only.  Promotionmay not be combinable with other offers/promotions. Promotion, terms, & restr's subject to change & may be modified or terminated at any time without notice.
Gen. Wireless Svc Terms: Subject to Qualified Agmt. Deposit: may apply per line. Prices may vary by location. Credit approval, taxes, fees, overage, monthly, other charges, usage, coverage & other restr's apply. Early termination/cancellation fee may apply if customer purchases a subsidized device; see Qualified Agmt for details. See www.att.com/mobilityfees for fees & charges. AT&T svc is subject to AT&T network management policies. See www.att.com/broadbandinfo for details. Int'l and domestic off-net data may be at 2G speeds.
Request info
To get sales help from a Business Solutions specialist, please complete this form.
Your feedback will help us to improve AT&T Business so you continue to have a great experience when visiting us!
This survey is conducted by an independent company ForeSee for AT&T.